Frequently Asked Questions
Beretta 92, 96 and M9 Series
Gun Tips and Training Videos
COMPATIBILITY: Are the 92 and the PX4 Hammer Springs the same?
Dimensionally, the hammer springs are the same and will work in the Beretta PX4, M9, 92 and 96 Series guns, however they deliver different performance. A 12# hammer spring in a 92/96/M9 would be considered a competition hammer spring, but in a PX4, it would be perfectly suitable for duty or EDC.
ABOUT: Which Hammer Spring Weight should I choose?
Combined with our Trigger Job in a Bag kit and the following hammer springs, your DA/SA pull weight will be approximately:
11# DA: 5.3 to 6 lbs
12# DA: 5.6 to 6.4lbs
13# DA: 6.3 to 7lbs
14# DA: 7 to 7.5lbs
16# DA: 7.2 to 8 lbs
On the PX4, it will be:
#11 DA 6 to 7lbs
#12 DA 7 to 8lbs
With the Single-Action will be between 3.5 and 4 lbs for both the 92/96 and PX4.
COMPATIBILITY: Will the PX4 Trigger Job in a Bag work in my subcompact?
No, the PX4 TJIB will work in the PX4 Full-size and Compact. You can send your subcompact in for us to do a trigger job on the firearm itself.
---
HELLCAT: Why is LTT working on the Hellcat?
Since the introduction of the Hellcat, we have had many requests to work on this gun due to it's size, capability and round capacity. We have been working on this for several months as part of our effort to offer custom without compromise solutions to for every day carry customers.
CUSTOM WORK: Can I send my Hellcat to LTT? What Custom Gun Work is available?
LTT is installing Apex Tactical Trigger Kits, doing internal work to the firing mechanisms of the gun, offering and installing red dot optics (NOT ZEROING, however), and C&H Precision optic adapter plates (to allow installation of the Holoson 407k), as well as engraved Hyve aluminum backplates & extended magazine release buttons.
CONTENTS: What will I receive with my LTT Hellcat?
The LTT Hellcat ships with an Apex Tactical Trigger installed, LTT custom work performed on the internal trigger components, as well as the standard 11rd magazine (flush fit or extended) and 13rd magazine (extended) - the same magazines included from the factory.
Optionally LTT can install:
The Sig Romeo 3 or 6 MOA red dot OR Holoson 407k red dot sight (requires C&H Precision adapter plate)
The Talon Grips Evolution PRO package
The Hyve aluminum rear plate engraved with the LTT Logo; And/or
The Hyve aluminum extended magazine release button
OPTICS: Can I have a red dot optic installed by LTT?
LTT can install the Sig Romeo (3 or 6 MOA) or the Holoson 407k (requires C&H Precision adapter plate) - please note we are not zeroing optics at this time.
---
HOW TO: Install the Trigger Job in a Bag in the XD-E
Check out this video for step by step instructions on installing the LTT Trigger Job In a Bag in the Springfield XD-E Pistol:
ABOUT: What Hammer Spring should I choose for the XD-E?
20% reduction weight 12.7 lbs spring for reliability with US and NATO-spec ammunition. (If you want a heavier hammer spring for varying types of ammo, choose this one)
25% reduction weight 12 lbs spring provides reliability with US-Spec Ammunition
---
TIP: How to Clean and Oil your Gun
INSTALL: How to Install the LTT Optimized Performance Trigger Bar
TIP: Malfunctions test - what could be causing a malfunction?
PRACTICE: Spending time practicing behind cover
ABOUT: About Langdon Tactical, published by Carry Trainer April 2020
TIP: Cleaning, Lubricating and Oiling your gun with Carry Trainer and Ernest Langdon
ABOUT: Why Isn't My Trigger Reset Audible or Tactile?
A: You need to get off of your trigger and stop holding it to the rear while you are aiming the gun:
TIP: Overcoming Recoil Anticipation:
WATCH: How to fly commercial with firearms:
---
CLASS REGISTRATION: Can I register for your Advanced Class without having taken one of your previous classes?
No, you cannot, unless you are registering for the 3-Day Advanced Tactical Pistol Skills Course (The 3- Day covers the prerequisites for the advanced).
My Tactical Pistol Skills Class is not a Basic course by any means. I often run into issues where people want to take this as their first or second class and they have a very difficult time keeping up. It is a very fast paced class where we do many drills that most consider advanced.
Attending my Advanced Class is not an issue of skill or ability, it is an issue of understanding of the fundamentals of how and why I teach and train the way I do. I have a very specific theory of training that is addressed in detail in the standard Tactical Pistol Skills class and not covered at all in the Advanced Class.
I have tried a few times to let people in the class that have "the skill" to attend, but they end up looking at me funny when I start talking about certain things and I have to go back and explain, which is a waste of time for the rest of the class.
PREREQUISITES: Do you have prerequisites for your courses? What do I need to know how to do before I register?
Please watch the video below for more information on LTT Course Prerequisites:
TARGET: Where can I purchase the target used at Ernest's class?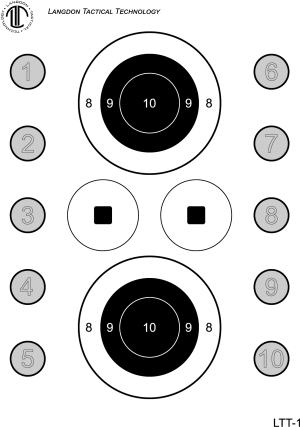 Still Have Questions?


PLEASE Reference the Product Description for Shipping Time Frames, Product Information and Frequently Asked Questions BEFORE Sending an Email or calling. If we do not answer, it's because we are talking to another customer. PLEASE leave a message and we will get back to you as soon as possible.
REFUND POLICY – EFFECTIVE MARCH 15th 2020:
ALL SALES ARE FINAL. ANY REFUND OR RETURN REQUESTS FOR FIREARMS MUST BE APPROVED BY LTT STAFF. ALL NON-RMA RETURNS OR CANCELLATIONS WILL BE INCUR A 20% RESTOCKING FEE. LANGDON TACTICAL STANDS BEHIND ALL LTT PRODUCTS.